The abandoned cart has become a global issue. According to a recent statistic, 75% of customers abandoned their shopping cart because something occurred during shopping. It costs eCommerce stores billions of dollars annually. There is an effective way to tackle this problem. Establish an actionable abandoned cart email strategy to win back potential customers and earn 25% more profit.
Abandoned cart email is a follow-up email sent to customers who have added items to their shopping cart, but left the purchase incomplete.
A strong Abandoned cart email strategy helps you re-engage your lost customers and encourage them to complete their purchases. It will surely keep you ahead of your competitors. As only 19% of companies engage in any kind of shopping cart abandonment recovery.
And do you know what is the average open rate for abandoned carts?
According to MooSend, 45% of cart abandonment emails are opened on average, the click rate is 21% and the conversion rate is 10.7%.
Today we will take a deep dive into how to create an email strategy for abandoned carts, along with examples of best-abandoned cart emails. If you stick around, we will go over a tool that will help you create the perfect abandoned cart strategy for your WooComerce stores.
Let's get started.
What is CartPulse and How Does It Help to Bring Back Lost Sales?
We recently launched a new solution for WooCommerce called CartPulse. This abandoned cart recovery extension helps entrepreneurs win back lost sales due to shopping cart abandonment.
CartPulse offers an extensive solution allowing you to capture lost leads through-
Exit-intent popups
Inactive triggers
Customizable automatic email campaigns and more
CartPulse allows tracking and monitoring of all your cart activities with items saved, and admin notifications for every cart abandoned and recovered. It also offers powerful insights on recovery rates, revenue, and more through its dashboard with detailed reports.
Utilizing CartPulse, you can bring back lost sales and ensure your hard work does not end in vain when customers don't complete their purchases. CartPulse provides customizable automatic email campaigns and uniquely generated coupons at the right time to capture those lost leads.
Why People Abandoned Carts? Learn About the Causes Before Applying Solutions
Before we go into the details of the abandoned cart email strategy, let's learn about the cause of abandoned carts.
It is very rare for customers to purchase something on their first visit. More than 34% of people come to eCommerce stores for window shopping. That is one of the biggest reasons for the increasing rate of cart abandonment. You may not have any control over the behavior of the customers.
However, there are other aspects of your store that leads customers to abandoned carts. We are going to take a look at them-
Technical Issues or Errors
Limited Payment Options
Complicated Checkout Process
Distrust in eCommerce
Complicated Shipping & Return Policies
1. Technical Issues or Errors
This can cover a range of potential problems. From having issues in creating a form field to poor design, anything can be a technical issue. Slow loading or freezing up, especially during the checkout process can hamper the confidence of the user and result in an abandoned cart.
Site performance matters, because during a peak season like Black Friday, if your customers find a slow-loading checkout process, it is enough to put a doubt in their minds.
2. Limited Payment Options
How many times customers have complained that they couldn't purchase a product because they didn't find their preferred payment method?
When you have a global eCommerce store, people from all over the world will purchase your products. So, you need to make sure you have a variety of payment methods as well as credit and debit cards available at the checkout. Moreover, it is important to match the payment methods to local preferences. While shoppers in the US and UK generally use card payment or PayPal, there is more variation elsewhere.
3. Complicated Checkout Process
18% of people abandon their shopping cart because of a long and complicated checkout process. That is a very big number of people. Unless you are selling a complex product, you need to make the checkout process smooth. The checkout process should be short as possible with a clear design, and form fields that are necessary and easy to understand.
To make it easier, use a tooltip to explain form fields and keep a FAQ section in order to answer the most common questions. You can also use pre-defined search (like Google suggestions) in the address, age, and date fields to make the checkout process short.
4. Distrust in eCommerce
When people have concerns about entering your site, then it is a big red flag. Because trust is a very big factor in the eCommerce business. Whether people will trust your site depends on a number of factors:
Knowledge of the retailer or brand.
A professional site design. If it looks like an old Geocities site, don't expect many orders.
Site performance. Errors and slow-loading pages will ring alarm bells.
Clear contact details and customer service links.
Social proof – testimonials and reviews from customers. If other customers have bought from the site, this reassures new shoppers.
Security logos and trust seals. These can be more important for lesser-known brands, as they offer reassurance to
5. Complicated Shipping & Return Policies
If you are one of those eCommerce sites that wait till checkout to reveal the actual shipping prices, then you are in big trouble. That means when customers are adding products to their cart, they don't know the shipping costs. And in time of checkout, they abandon their shopping cart after seeing the excessive shipping price.
You need to be upfront with the shipping prices from the start. The same rule applies to eCommerce return policies as well. Customers find confidence in shopping from stores that have clear and easy return policies.
Before you create your abandoned cart email strategy, you need to solve these issues on your eCommerce site.
Now, let's see the top strategies for abandoned cart emails.
8 Abandoned Cart Email Strategy: Proven Tips to Win Back Your Customers
Creating an abandoned cart email strategy is a challenge. Because most eCommerce businesses are using the same tried and tested methods in order to recover abandoned carts. It has become hard to stand out and make a mark in your user's mailbox.
In order to win back your customers, you need to get that attention and make your customers take action. But don't worry. We will create a strategy that is traditional but with a twist that will help you reduce your abandoned cart rate. Here is the list,
Create a Catchy Subject Line
Choose a Visually Engaging Template
Make Your Email Design Responsive
Create an Abandoned Cart Email Sequence & Send Them with the Right Timings
Prioritize Your Best Selling Products, Use Cross-Sell & Upsell Technique
Offer a Discount That They Can't Resist
Personalize Your Email, Create a Long-Term Connection
Use Social Proof to Create Urgency.
Let's see them in detail, shall we?
1. Create a Catchy Subject Line with an Engaging Copy
You will understand the importance of a subject line from the below statistic,
64% of people decide if they will open an email based on the subject line

cmbinfo
If you are sending emails to 100 people, 64 people won't open the email if they don't find the subject line exciting. So our first point in the abandoned cart email strategy is to come up with abandoned cart email subject lines.
There is no secret recipe for creating the perfect subject line. You need to create a series of subject lines and A/B tests as much as possible. While creating subject lines, remember these,
Be direct and concise, use simple language, and keep it between 41 characters and 7 words
Personalization is key, use product names, customer names, etc
Create urgency and product scarcity (short in supply)
Using emojis in subject lines has proved to be effective.
While your subject lines will make sure users open your emails, the copy inside your mail will help with the conversions.
It is equally important to make your email copy shine. Don't sound like a robot or corporation that is trying to sell something, rather be a friend who is giving a gentle reminder along with incentives. With a relaxed tone, remind the theme they left something behind and they must go back to buy them.
Add personality to your copy. Include a Call To Action (CTA) button with the right action words so customers know what to do next. The more casual your copy is, the more chance it will connect with your customers and they will respond to your email.
Here is an abandoned cart email from Casper. They use a catchy subject line " Did you forget something?". In the body, they keep it clean, with a CTA that directs back to the checkout process. Also, they include testimonials in the emails to show that their products are worth it.
2. Choose a Visually Engaging Template with High-Quality Graphics
An average person receives 121 emails in their inbox every day. You may have a great subject line along with an engaging copy, but without a template that compliments your writing, they are of no use. A visually great email template will distinguish your email from the tons of mail your customers receive.
Use dynamic design containing a slideshow or GIF. Liven things up and make it interesting
Keep consistent with your website design. For example, a menu that is similar to your website
Maintain color consistency. Use your brand colors and create a positive image of your brand
Avoid using stock images, use custom images instead. You will find a lot of online tools to create custom images with ease.
Make sure you choose the perfect abandoned cart email template.
If you are looking for inspiration, have a look at the abandoned cart email from Virgin Atlantic. They have included three Call To Action buttons to encourage customers to complete their purchases. The three CTA buttons don't look forced, rather they beautifully complement the email.
The email also includes flight information in an organized manner and is very easy to understand.
3. Make Your Email Design Responsive
79% of people use smartphones to buy goods from eCommerce stores. Nowadays, people are so attached to their phones, that they want to use phones to complete any kind of task online. That includes checking their phones multiple times to check their emails.
If you want your would-be customers to open your abandoned cart emails, then you need to make your emails mobile responsive. In order to make your email mobile responsive,
Use short headlines, sentences, and bullet points
Use small images but with the same message
Try to use float buttons CTA that follow the users when they scroll. That way you can add more information to the template.
Lush is a lucrative brand. You can take inspiration from their abandoned cart emails. They are mobile-friendly and provide customers with a smooth experience. They use short headlines and small images which get the message across.
Although, adding a CTA button inviting customers back to the checkout process would have made the email even better.
4. Create an Abandoned Cart Email Sequence & Send Them with the Right Timings
Most users are confused about one thing "When to send abandoned cart emails?"
In this part of the abandoned cart email strategy, we are going to tell you about how many emails you need to send and what should be their timings.
You need to create an email sequence to win back your customers. Studies show that the sooner you send an abandoned cart email, the better result you will get. However, you need to get the timing just right. If you send the email too soon, then you are likely to get a low conversion rate.
Studies also found that sending a follow-up email after one hour resulted in an average conversion rate of 16%. Here's what your abandoned cart email sequence should look like,
The first email sent one hour after the abandonment
The second email sent one day after the abandonment
The third email sent three days after the abandonment
However, you can also send a fourth email. But that email should not focus on cart recovery. Rather it should focus on re-engaging the customers.
Kate Spade sends an abandoned cart email after 30-1 hour with the subject line "Hey, you forgot something." This email is to remind shoppers about their abandoned carts. They also add a CTA button inviting them to go back to their checkout process.
5. Prioritize Your Best Selling Products, Use Cross-Sell & Upsell Technique
If your customers added 5 products to their shopping cart and left before completing checkout, then it is safe to assume that the shopper doesn't intend to buy all 5 products. In this case, you can create an email copy that showcases that focused on your best-selling or highest-rated ones.
There is a big chance that the user already bought the abandoned products elsewhere. So it is a tremendous opportunity for store owners to promote their other high-rated products using Cross-Sell (selling a different product or service to an existing customer) and Upsell (persuading a customer to buy something additional or more expensive) techniques.
Retailers can achieve this by adding product recommendation units to the email, personalized according to the items that the shopper has demonstrated an interest in, or similar to the item that was abandoned in the cart. Here are some tips to do this,
Use data and your intuition to find the right product to focus on.
Highlight the primary features of the products along with some unique points, but don't go overboard
Use customer reviews to gain customer trust.
Under Armour is a great example of this. They not only upsell their products but cross-sell their high-rated products as well. They promote their fitness apps as well so that customers can have a reason to jump back to their site as well.
6. Offer a Discount/Reward That They Can't Resist
Offering a discount or a coupon is an obvious part of the abandoned cart email strategy. However, you need to be very careful about how you use them. If you offer a discount right off the bat, users are going to think your original price wasn't worth it. Also, by offering a discount in the first email, you are cutting your profit margin.
The best way to use coupons is by sticking to the original price first and awarding discount coupons only to the best and most loyal customers. Lastly, offer coupons in the third and last email.
But coupons are an old and tried tactic. Most of the customers expect them. Instead what you can do is offer rewards. You can create a system in that, users need to earn a certain amount of points in order to get a 10% discount. That will pique the interest of the customers and you will loyal customers.
You can take a look at American Airlines. The more you fly the more rewards you earn. And if you can earn a certain amount of miles in a specific amount of time then you will be upgraded to the next level.
7. Personalize Your Email, Create a Long-Term Connection
80% of shoppers prefer to buy from brands that offer individualized experiences. Personalization is very important to convert customers. It makes your customers believe that the message has been specially crafted for them. In order to make your abandoned emails personalized,
Use the recipient's name in the greeting or subject line
Email as a person not from any no-reply address
Use a casual conversational tone.
Also, make sure you don't annoy the customers. After your abandoned cart email sequence, don't send any more emails without their consent. If you want to send more emails, one way to do that is to add a final email to your abandoned cart email sequence, asking your prospect to instead sign up for your mailing list instead.
Ugmonk is a real-life example of personalization. Their abandoned cart email looks like the owner and designer is reaching out directly to answer any questions. Plus, this includes two in-line CTAs so the customer can finish checking out instantly if they want. This is a very simple approach to target your audience.
8. Use Social Proof to Increase the Conversion Rate
Last but not least, use social proofs on your abandoned cart emails because 88% of shoppers are swayed by reviews in their buying decision. You can leverage social proofs in your email templates in three ways,
Use product reviews to show how other people view your products
Add product ratings to gauge the popularity
Including testimonials to get the feedback of past customers.
When you display social proof it gives customers confidence in your products.
Wanderer Bracelets uses social proof in their abandoned cart emails. Along with personalization, they use product ratings and reviews to gain the confidence of their customers. Also, by using the term "But not for long" they create a sense of urgency.
So these are the abandoned cart strategies you can use to win back your customers.
Now you must be thinking about how to send abandoned cart emails.
Well, if you are running a WooCommerce store, then you are in luck. You can use the CartPulse WordPress plugin to collect and send abandoned cart mail.
Let's see how.
Introducing CartPulse- The best WordPress Tool to Collect & Send Abandoned Cart Emails

CartPulse is an automated abandoned cart plugin for WooCommerce stores. This plugin is specially made for store owners who are looking for a simple and automated solution to solve their abandoned cart issues.
It tracks abandoned carts from the backend, which you can add to your abandoned cart list. If the site visitor adds something to their cart but doesn't purchase it within 10,20,30, 40, etc minutes, then CartPulse will consider this an abandoned cart. It will also start a recovery email campaign to recover the lost sales.
Exclusive Features of CartPulse
This plugin has features that will help users easily collect the users who abandoned their carts and send emails to them automatically. Its features include,
Dashboard with in-detailed reports including graphs, charts, cart funnel
Organized list with the names of abandoned cart customers
Engaging email templates and pre-made email sequence
Ability to create your own email sequence
Cart Overview report data with date filter
Cart Details – Recovery URLs, Conversions, Deleting carts, History, Customer info
Exit-intent pop-up to collect emails
Monitor all carts with their items saved
Ability to track guest checkouts and more.
Now, let us see how to use this plugin for abandoned carts. But first, make sure you have a running WooCommerce site.
How to Collect Abandoned Cart Emails
First, you need to configure the settings in order to collect emails from the customers who abandoned their carts. To do that, go to WP-Admin–>CartPulse–> Settings. In the General section, you need to Enable Cart Tracking and Enable Guest Cart.
Baixar Windows 10 ISO Crackeado
Next, in the Email section, Enable Guest Email popup. Also, set a time limit, after that time an auto email popup will be opened for guest customers.
Save changes after you are done.
This is the pop-up your customers will see when they leave the site,
You will find the list of the customers who abandoned their carts in the WP-Admin–>CartPulse–> Carts section.
How to Send Abandoned Cart Emails?
After you have collected the emails, then it is time to send the emails. You will find that there is already three ready-made email template in the WP-Admin–> CartPulse–> Emails.

You can customize the emails as you prefer. You can change the name of the template, and add the customer's name in the subject lines. The most important part is you can edit the template using blocks.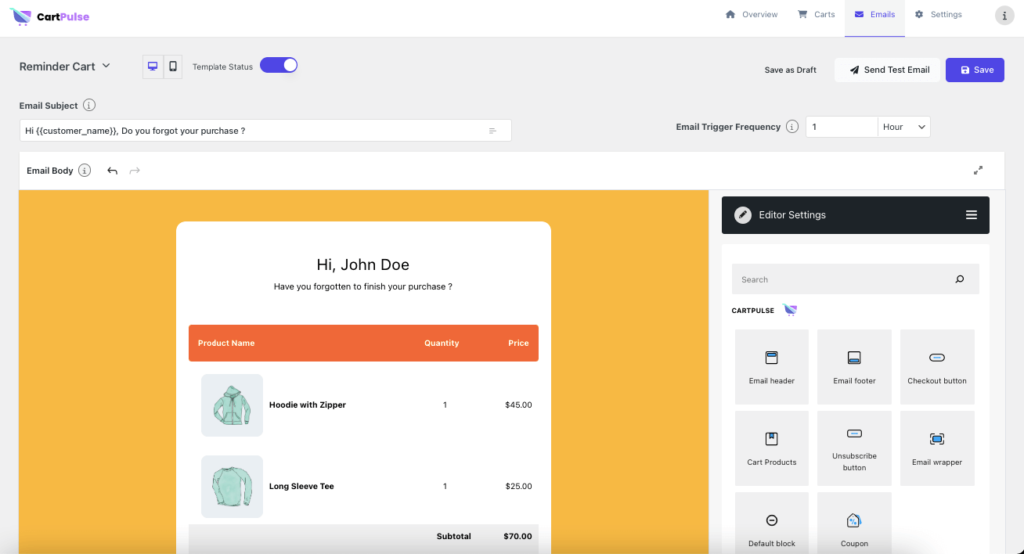 After you have customized the email template, then it is time to choose the trigger frequency. That means you need to set the time when the mail will be sent after the abandoned cart. Hit the Save button after you are done.
If you want to know more, check out the CartPulse documentation.
This is the way you can set up CartPulse to collect and send abandoned carts automatically.
FAQ(s) on Abandoned Cart Email Strategy
What should I write in the abandoned cart email?
You should include this on your abandoned cart emails,
1. Snappy subject line.
2. Introduction text.
3. Items left in the cart.
4. Offer or discount.
5. Checkout button or call to action (CTA)
6. Reviews or social proof.
7. Closing text or footer.
Do cart recovery emails work?
Yes. It's a remarkably effective customer retention tactic. In fact, a recent report from Klaviyo reveals that businesses using cart recovery emails earn back 3%–14% of lost sales, with an average revenue per recipient of $5.81
How many emails does an abandoned cart need?
It depends on the store and its purposes. While every store is different, most eCommerce sites tend towards 2-4 emails for abandoned cart recovery.
Are abandoned cart emails GDPR compliant?
Yes, according to the European Commission's definition of legal grounds for processing data, you're compliant as long as you have explicit consent from the visitor to receive those emails.
Does CartPulse have a Free Version?
No, CartPulse offers a premium version only.
Use A Powerful Abandoned Cart Email Strategy to Winning Back Lost Customers
Shoppers are never going to stop abandoning carts. But with a smart abandoned cart recovery strategy, you can get a portion of those customers back.
We have tried to cover all the details regarding abandoned carts and tried to come up with strategies that will help you win back those lost customers. As a result, it will increase your revenue.
If you have any trouble understanding any points do let us know and our expert team will get back to you. Cheers.
pikashow apk download AI War 5.538 Cracked Mac Game traffic rider mod apk.